Meditation Crescent Cushion
INFO
- Product Code: cushionR
- Availability: In Stock
Regular cushion: 17" x 25" x 7" - 6.4lbs | 44cm x 64cm x 18cm - 2.9kg

Need a large cushion? - Video size guide


Moonleap

Meditation Crescent Cushion

Moonleap cushions are intelligently designed to support a forward pelvic tilt and remove pressure from the Sciatic nerve and more sensitive areas of the buttocks that can be compressed by the pelvic bones.
Supports forward pelvic tilt for effortless upright sitting
Contoured design distributes the meditator's weight evenly over maximum area of the buttocks and upper legs for optimal comfort
Decreases compression of the Sciatic nerve, where the thighs meets the buttocks, allowing the meditator to sit for longer without getting numb legs
Relieves the discomfort caused by the pelvic bones compressing the buttocks, experienced by some when using a conventional meditation cushion
Organic spelt husk filling like traditional buckwheat husk filling displaces weight evenly yet is more breathable and lighter in weight
Constructed from heavy weight, non-slip fabrics sewn together with super strong upholstery grade thread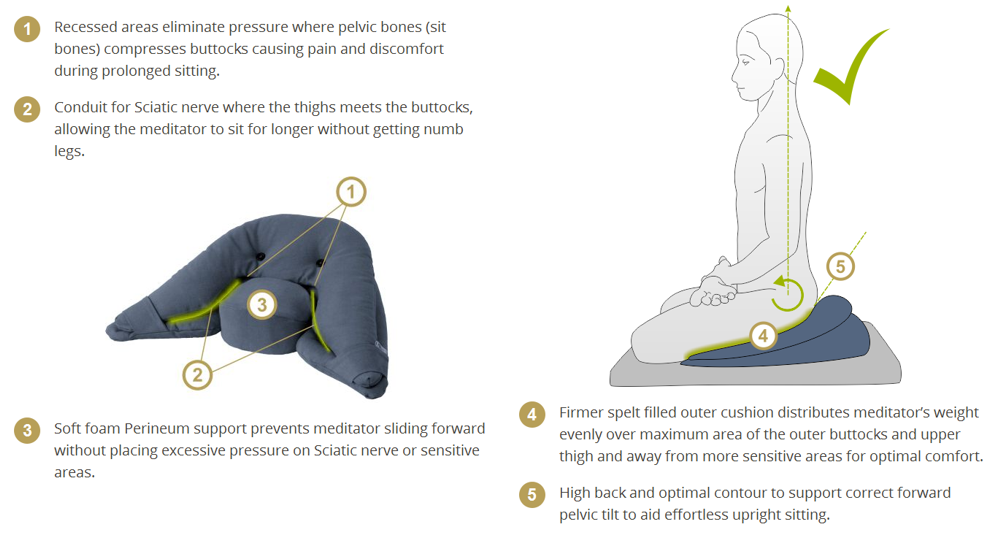 The problems with traditional meditation cushions
Adjusting and sitting on the Moonleap Cushion
Reduces numb legs during or after sitting
Pressure where the leg meets the buttocks can cause compression of the Sciatic nerve which often results in numb legs during or after sitting. The soft foam central cushion combined with the contoured outer cushions eliminate this problem to a significant extent.
Relief from "a pain in the butt"
For those with little meat on their rear and those of advancing years, the soft centre will also bring relief from pain felt during long sitting where the pelvic bones would normally compress the buttocks when using a conventional cushion.
Made for long life
All Moonleap cushions are made from heavy weight, non-slip fabrics sewn together with super strong upholstery grade thread. Cushions are made in the USA to the highest quality of finish. Much attention went into the design process to ensure that the cushions not only look beautiful, but will become a faithful support for your practice for many years to come.
Organic spelt husk filling for comfort, breathability and reduced weight
Moonleap cushions are stuffed firmly with organic spelt husk. Like buckwheat husk, spelt husk conforms naturally under pressure, but is lighter and more breathable than buckwheat. The spelt husk we use has a faint pleasant sweet grassy smell. Our cushions are shipped with an additional small quantity of husk that can be added after a few months of use after an initial small stretch may have occurred in the cushion fabric.
---
Choosing the correct size
If your hip measurement* is more 41 inches or you are more than 6'2" height then we suggest you will require a large cushion
*Taking an accurate hip measurement
Measure at the widest point around your hips and buttocks. Since hips and buttocks vary in size for women and men, the widest point may be above or below your hip bones. Turning side on to a mirror check to see that measuring tape is parallel to the ground at all points.
---
Shipping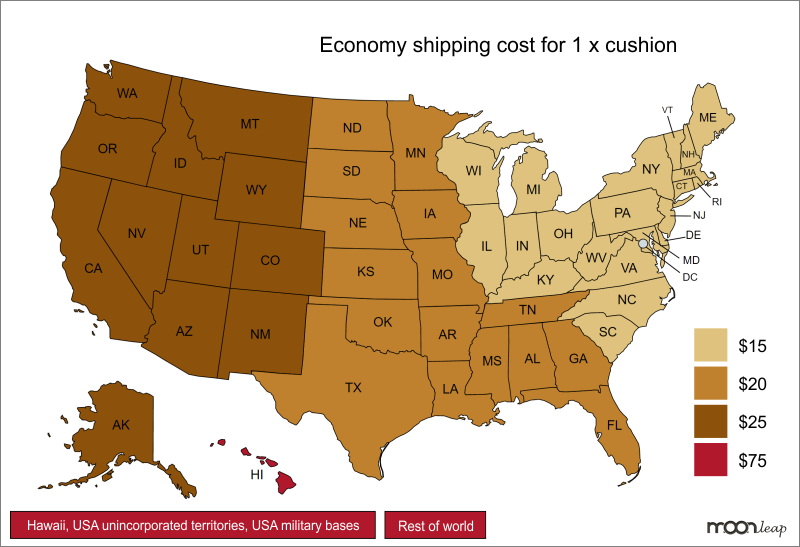 Moonleap Meditation Products