Large Meditation Cushion and Mat Set
INFO
- Product Code: cushionLC
- Availability: In Stock
Large cushion: 20" x 29" x 8.3" - 9lbs | 51cm x 74cm x 21cm - 4.1kg

Need a regular cushion? - Video size guide

Mat: 36" x 30" x 2" - 4.5lbs | 91cm x 76cm x 5cm - 2kg


Moonleap

Large Meditation Cushion and Mat Set

nleap cushions are intelligently designed to support a forward pelvic tilt and remove pressure from the Sciatic nerve and more sensitive areas of the buttocks that can be compressed by the pelvic bones.
Supports forward pelvic tilt for effortless upright sitting
Contoured design distributes the meditator's weight evenly over maximum area of the buttocks and upper legs for optimal comfort
Decreases compression of the Sciatic nerve, where the thighs meets the buttocks, allowing the meditator to sit for longer without getting numb legs
Relieves the discomfort caused by the pelvic bones compressing the buttocks, experienced by some when using a conventional meditation cushion
Organic spelt husk filling like traditional buckwheat husk filling displaces weight evenly yet is more breathable and lighter in weight
Constructed from heavy weight, non-slip fabrics sewn together with super strong upholstery grade thread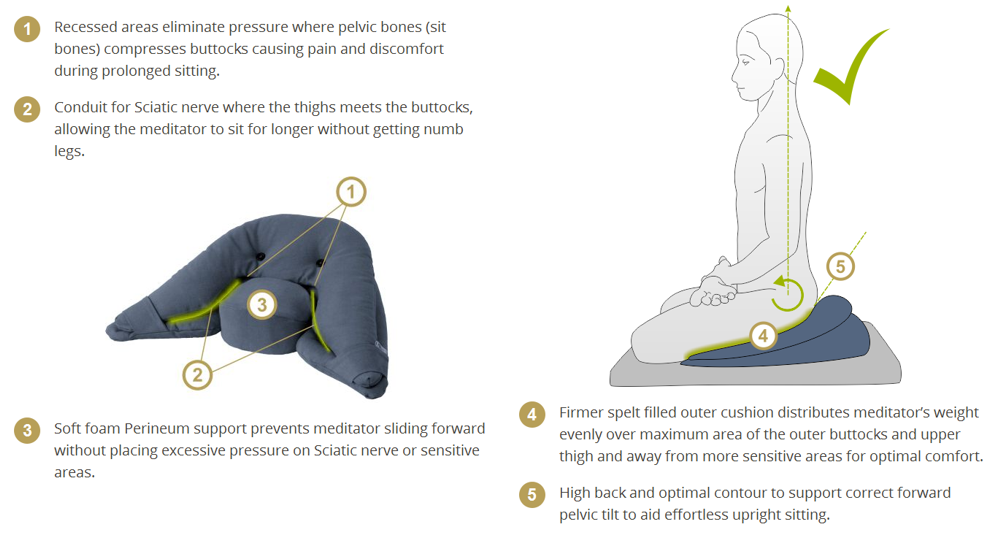 The problems with traditional meditation cushions
Adjusting and sitting on the Moonleap Cushion
Reduces numb legs during or after sitting
Pressure where the leg meets the buttocks can cause compression of the Sciatic nerve which often results in numb legs during or after sitting. The soft foam central cushion combined with the contoured outer cushions eliminate this problem to a significant extent.
Relief from "a pain in the butt"
For those with little meat on their rear and those of advancing years, the soft centre will also bring relief from pain felt during long sitting where the pelvic bones would normally compress the buttocks when using a conventional cushion.
Made for long life
All Moonleap cushions are made from heavy weight, non-slip fabrics sewn together with super strong upholstery grade thread. Cushions are made in the USA to the highest quality of finish. Much attention went into the design process to ensure that the cushions not only look beautiful, but will become a faithful support for your practice for many years to come.
Organic spelt husk filling for comfort, breathability and reduced weight
Moonleap cushions are stuffed firmly with organic spelt husk. Like buckwheat husk, spelt husk conforms naturally under pressure, but is lighter and more breathable than buckwheat. The spelt husk we use has a faint pleasant sweet grassy smell. Our cushions are shipped with an additional small quantity of husk that can be added after a few months of use after an initial small stretch may have occurred in the cushion fabric.
---
Moonleap meditation mat
High quality two inch thick, foam core meditation mat
We use a two inch high quality, firm open cell foam in our meditation mats. We have found that this thickness is ideal for both cross leg sitting using our Moonleap cushions or for use in kneeling postures. Both sides of our mats can be placed face up and the cover is removable and washable. We use the same beautiful heavy weight, 100% cotton fabric that we use to make our cushions. This chunky twill fabric provides an ideal soft yet non-slipping surface ideal for a meditation mat.
Oversized to accommodate all
Our mats measure 36 inches by 30 inches which is larger than most meditation mats on the market. There is a certain satisfaction that comes with having plenty of room on your mat and not having your knees right on the edge. The depth of a mat is also important as we don't want to have only half a cushion on the mat as this will tilt our support backwards. To ensure a consistent and setup we recommend both knees and entire cushion be located on the mat. If you are very tall and 36 inches is still not wide enough for you then please let us know and we can make you a custom mat.
Not too thick, not too thin
When making a meditation mat with a foam core we have found that mats thicker than two inches can become too squishy and the meditator may feel unstable. When a mat is too thick we have also seen a cushion will sink more than the knees and so extra height needs to be added under the cushion to compensate. When the mat is any thinner than two inches or a softer foam is used then the meditated may 'bottom out' and feel the contact with the floor.
Why is a good meditation mat important?
A suitable mat will not only cushion and stabilize the knees and or ankles during meditation, but it will also provide the right degree of friction so that the meditator does not gradually slide forward off their cushion. When we use a cushion on either a surface that is too hard or too slippery then we will not be able to fully relax down into our posture with no tension in the legs. When there is tension in the legs for long periods we will often find tension building in the rest of the body. What begins with a hard contact with the ground can spread as tension throughout the body especially when we are still relatively new to a sitting meditation practice. When we have pressure points in our posture where we are in contact with either our cushion or mat then we may unconsciously activate our muscles to pull that area up and away from the resulting discomfort. If this happens during meditation we are not finding a natural balance in our posture and any discomfort will become amplified further.
---
Choosing the correct size
If your hip measurement* is more 41 inches or you are more than 6'2" height then we suggest you will require a large cushion
*Taking an accurate hip measurement
Measure at the widest point around your hips and buttocks. Since hips and buttocks vary in size for women and men, the widest point may be above or below your hip bones. Turning side on to a mirror check to see that measuring tape is parallel to the ground at all points.
---
Shipping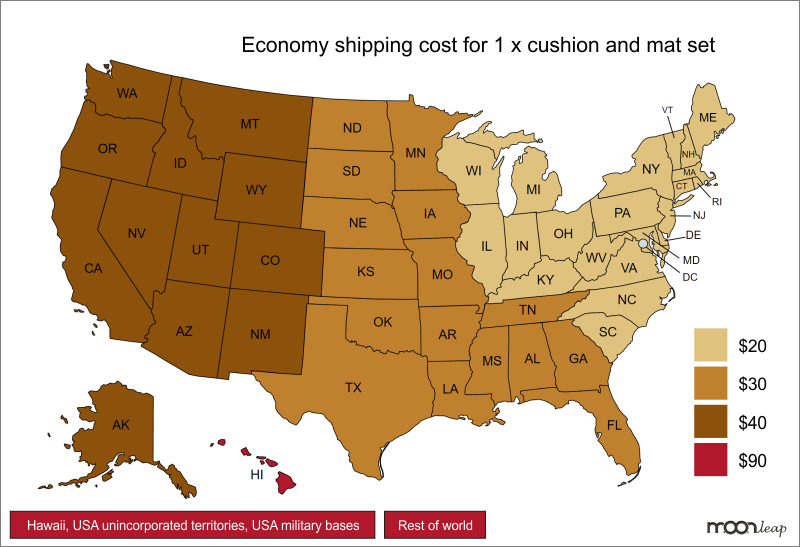 Moonleap Meditation Products